The ST3400H HeliTAWS® Helicopter Terrain Awareness and Warning System is certified and exceeds the current HTAWS TSO-C194. Specifically built for helicopters, the ST3400H combines an advanced HTAWS computer with the industry's best display technology to provide a single panel-mount, self-contained solution.

Combining its TAWS expertise from thousands of installations in private, corporate and air-transport airplanes and years of supplying civilian and military users with its 3" and 4" primary displays, Nighthawk Flight Systems provides the helicopter industry a multi-hazard avoidance system that alerts against wires, terrain and obstacles.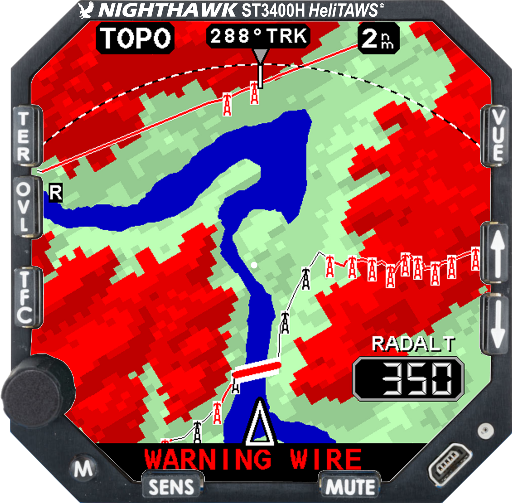 Tested to DO-160F helicopter vibration standards, HeliTAWS is built for reliability.

Engineering based on the industry standard ST3400 Part 25 Class-A TAWS.

Exceeds TSO C194 (HTAWS) standards.

WireWatch® & TruAlert®

Self-contained 3-ATI size allows the ST3400H to be installed in the place of an existing radar altimeter indicator, giving you two in one.

Displays ultra-high resolution terrain, clearly identifiable obstacles and GPS flight plan.

TSO'd traffic indicator when interfaced to an existing TAS/TCAD/TCAS processor or compatible ADS-B In transponder.




Integral Minimums (MINS) knob with aural and discrete outputs.

Best display performance – uses 3ATI LED backlit display engine.

>10,000 Hour MTBF.



WireWatch®
Advance defense against wire strikes that helps helicopter pilots avoid transmission lines whether they are powered on or off. WireWatch uses unique wire alerting algorithms that work proprietary 3-arc second wire database.

TruAlert®
TruAlert is our proprietary alerting technology that enables pilots to take off, cruise, hover and land at off-airport locations without triggering nuisance alerts.

NVIS Option
For missions flown under night vision goggles, the HeliTAWS® can be ordered with proprietary on-demand Class-B NVIS option. Unlike aftermarket NVIS modifications, our unique NVIS mode employs no external filters and does not degrade its brightness or daylight characteristics when NVIS is 'off'.

GPWS Modes
For those requiring additional capability the HeliTAWS supports GPWS Modes 1, 3, 4, 5 and 6.