SN3500 3-ATI Primary Navigation Display

Compact and reliable, the SN3500 Primary Navigation Display is a sunlight readable, ultra-wide-angle LED-backlit display which combines advanced navigation capabilities with a full range of safety functions.

Incorporating the equivalent of a four-inch screen in a three-inch instrument, the SN3500 improves situational awareness by presenting compass, map, flight plan and RMI data in a bright, crisp, easy-to-read format. With LED backlighting the SN3500 is a proven and reliable drop-in replacement for your current 3-inch HSI. The SN3500 is both an easy and affordable retrofit for your aircraft or rotorcraft. Available with night vision option and TACAN support as well.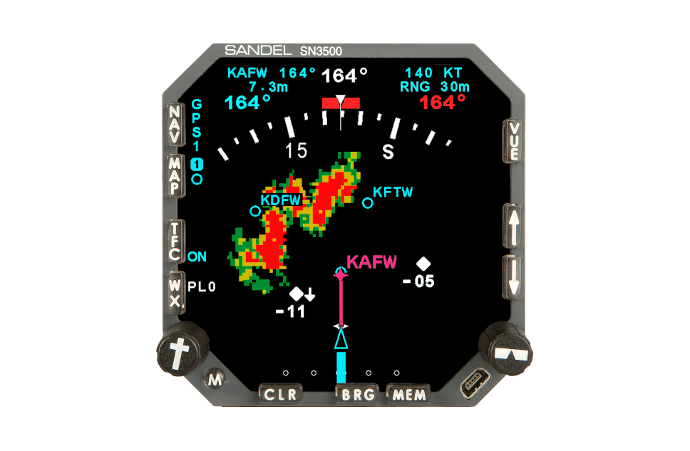 Operational & Functional Benefits
---
Bright, high-resolution, sunlight-readable LED-backlit display

180-degree vertical and lateral viewing angle

GPSS/Roll Steering option included

Upgradeable system combines navigation with safety options such as weather information from an L-3 Stormscope®

>10,000 hour MTBF

Internal Jeppesen NavData™ database

Full-color moving map Nav

TSO'd and STC approved for use as a primary heading and Nav display

Vibration-resistant version optional for helicopter operations

Optional TACAN interface shows bearing and distance from one or two sources. Compatible with ARINC 429, ARINC 419 or XYZ Synchro output from TACAN

receivers.

NVIS option available

Reversionary Attitude software option